Product Scenario Gallery
PRESENTATION Categories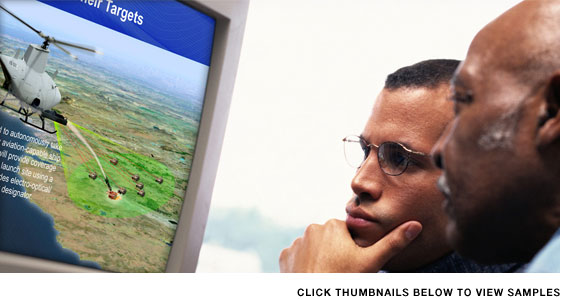 Scenarios are a highly effective means of displaying the capabilities of your product… even if it's still on the drawing board.
Our aerospace clients utilize our services extensively to present new concepts and products to key audiences. From rough product sketches we quickly create 3-D models, develop the scene, and then put it all together in PowerPoint as a convenient and highly effective visual story.
Disclaimer: These samples are notional examples of the types of services we provide and the products we produce. Most have had the original content removed or modified to avoid displaying proprietary information. No representation is made as to the correctness of the content or its relation to the represented company.
Product Scenario Slides PRESENTATION Categories
| PowerPoint Presentations | Marketing Briefings (PPT Decks) | Product Scenario Slides | Webinar Presentations |